Surfaces You Can Build On
Select from a variety of industrial workbench top materials that fit your application and budget.
Different applications can require specific workbench surfaces. BOSTONtec offers the most popular options – laminate, electrostatic discharge (ESD), stainless steel, hardwood, and phenolic resin. Contact us for additional choices if you have a special request.
Strength and durability to withstand the wear and tear of industrial and medical environments
A variety of options suited to the needs of specific applications such as bacteria and chemical resistance, ESD protection, etc.
Ergonomic options available for maximum user comfort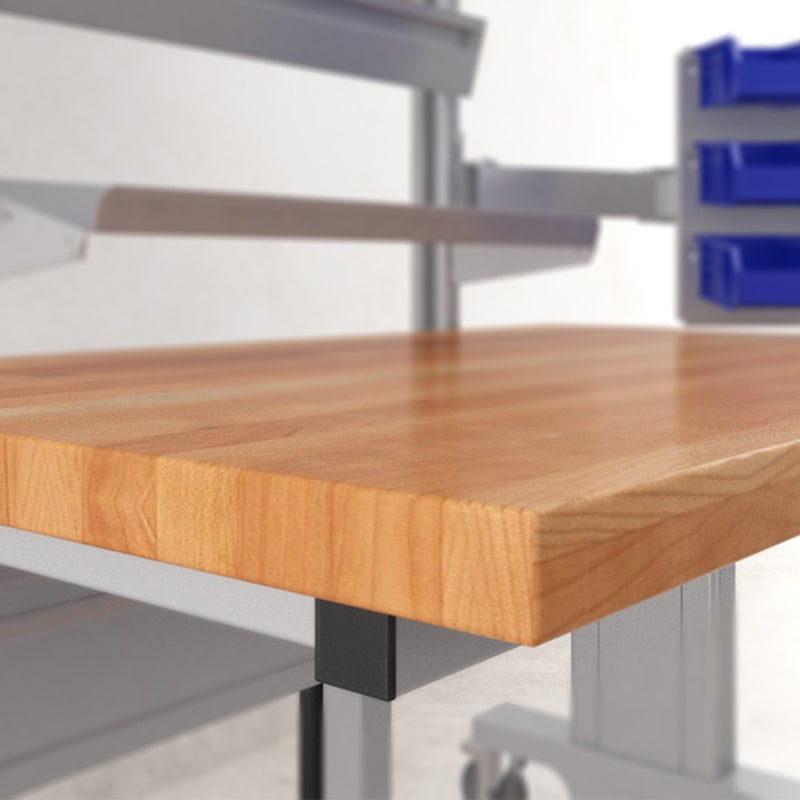 Premium Grade Laminate
This extremely durable surface is constructed with a top layer of 1/16 inch premium grade laminate over 11/8 inch thick high density core board. All four sides are finished with impact-resistant 3mm PVC edging with a 2mm radius. Standard color is gray; others available. (ESD optional)
Cleanroom Options
We offer cleanroom work surfaces which are typically used in class 100, 1000, and 10000.
Standard laminate work surface is our most economical cleanroom option with the shortest lead time. It has sealed edges and laminate underside for cleanroom environments. All four sides are edged with a high impact-resistant 3mm thick PVC edging in a complementary color. Finished with a 2mm radius.
Post-formed laminate cleanroom work surface is an ergonomic option for operators resting their wrists or arms on front edge. The front profile has 0.375″ radius for better user comfort. The back and two sides are straight 3mm edged. It is available with phenolic resin underside or laminate underside.
Stainless Steel
Durable and chemical resistant, this work surface is made of 14 gauge, 304 grade stainless steel formed over a sealed laminated high density core board. The 1 1/2 inch high surface comes with a non-reflecting, random brushed finish.
Hardwood Maple
Ideal for areas that must stand repeated wear and tear. Beautifully fabricated with 1 3/4" edge laminated hardwood maple. This surface provides maximum strength and durability and looks good doing it. Also available in a 180° rolled edge.
Phenolic Resin
Made of high-pressure, thermoset resin composite, this chemical-resistant work surface is nonporous and nonconductive. One-inch thick phenolic resin surface is strong and impact resistant. Standard color is black; other colors available upon request.
T-Mold Laminate
This durable option is constructed with a top layer of 1/16 inch premium grade laminate over 11/8 inch thick high density core board. All four sides are edged with a dark charcoal molded bumper with 11/4 inch corner radius. Standard color is gray; other colors available upon request. (ESD optional)
,
Electrostatic Discharge (ESD) Surfaces
All ESD work surfaces – premium laminate, cleanroom, and T-mold – come with grounding bolt (swedge surface connector) installed from factory. Optional swivet available to provide four jacks for wrist strap plugs.
See It Before You Buy It!
Custom Industrial Workbenches
When is it right for you?
Modular workstations are all-rounders and will adjust to several different workflows. So when should you consider custom solutions?
A custom workstation can be as simple as a small shelf or as elaborate as a multi-station configuration. As you're planning your ideal workstation, our modular system is a great place to start. Fine-tune your station to ensure higher productivity and employee retention.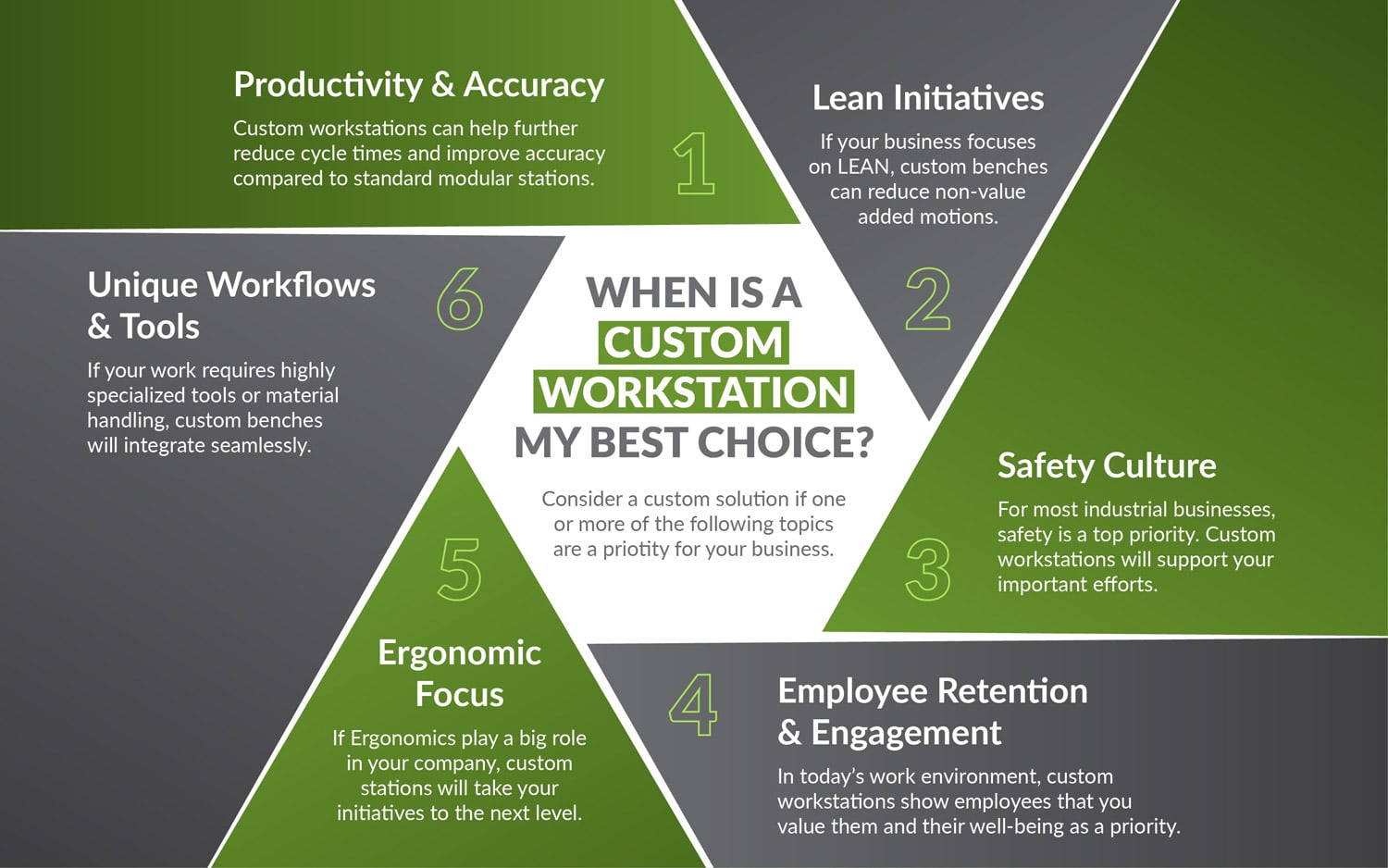 BUILDING BETTER WORKPLACES FOR 28+ YEARS
VIRTUALLY
MAINTENANCE-FREE
Build Your Perfect Workstation
with Easy-to-Use 3D Builder