Workbench shelves and dividers allow users to organize items according to the ergonomic reach zones guidelines.
Proper placement of shelves above and below the work surface provides storage and easy access to items while keeping the work surface clear for tasks.
Clutter-free and organized work space increases productivity
Proper placement of most frequently used items reduces reaching, stretching, and bending which could cause ergonomic injuries
Position and tilting angle of shelves can be adjusted easily without tools to fit your needs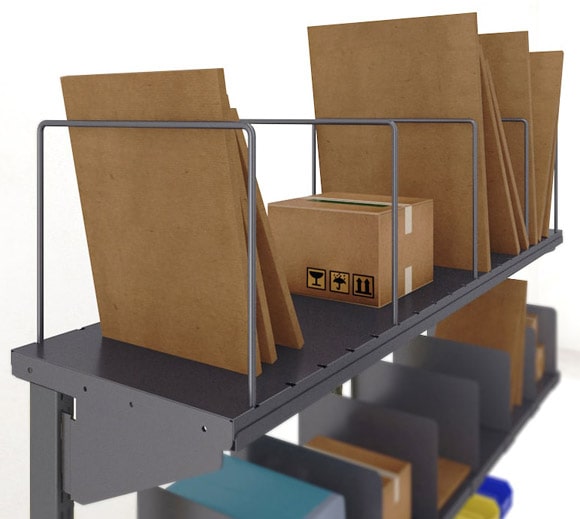 Workstation Shelving Options
Steel Shelf
Shelf is 30 inches wide to fit in industrial uprights, trolleys or standing workstations. The included brackets allow users to mount shelf flat or at a 15-degree angle and can be placed or moved easily without tools. Shelf lip helps hold items in place and is available in 8-, 12-, and 15-inch depths.
Adjustable Shelf with Tilt
Adjustable up to 25 degrees, tilt shelf reduces wrist strain of users repetitively reaching for items. Shelf fits in industrial uprights, trolleys or standing workstations and can be placed or moved easily without tools. Four-sided raised edges help hold items in place and is available in 18- and 24-inch depths.
Captured shelf has 8" tall side and back panels to hold items securely in place and within reach zones. They are available in widths of 30 inches, 60 inches, and 90 inches and can be mounted on single, double, or triple bay uprights. Placement can be adjusted on uprights without tools. Add steel shelf divider DIV1215 to them for additional organization.
Corrugate Storage Shelf
Ideal for packaging and shipping workstations, corrugate shelves are 15 inches deep by 30, 60 or 90 inches wide. Mounts on uprights and holds 100 to 150 pounds. Add shelf dividers to separate and secure multiple box sizes. Also great for extra storage space for lightweight, low-use items.
Work Surface Riser
The 12-inch deep, laminate surface provides additional work space or storage. The slotted uprights and brackets allow operators to place up to 18 inches above main work surface. Shelf is compatible with all cantilevered industrial and technical workstations at least 36 inches wide and has a 200-pound capacity.
Steel Foot Shelf
The 13-inch deep shelf mounts on top of workstation feet for additional storage and organization. Add optional shelf dividers to separate and secure multiple corrugate boxes. For additional comfort, it can be used as a footrest for operator. Shelf is compatible with PB and AF Series workstations.
Under Work Surface Shelving System
Shelving system provides additional storage space for lesser-used items. Systems are easily customized with pull-out trays for printers or extra work space. Shelf is height adjustable in one-inch increments and has a 100-pound capacity. Compatible with cantilevered industrial workstations at least 30 inches deep. Additional shelves and dividers are available.
Shelf Dividers
All BOSTONtec shelves have compatible dividers to help separate and secure items in place. The various dividers are easily installed without tools and may be locked into place or adjustable.
See It Before You Buy It!
Custom Industrial Workbenches
When is it right for you?
Modular workstations are all-rounders and will adjust to several different workflows. So when should you consider custom solutions?
A custom workstation can be as simple as a small shelf or as elaborate as a multi-station configuration. As you're planning your ideal workstation, our modular system is a great place to start. Fine-tune your station to ensure higher productivity and employee retention.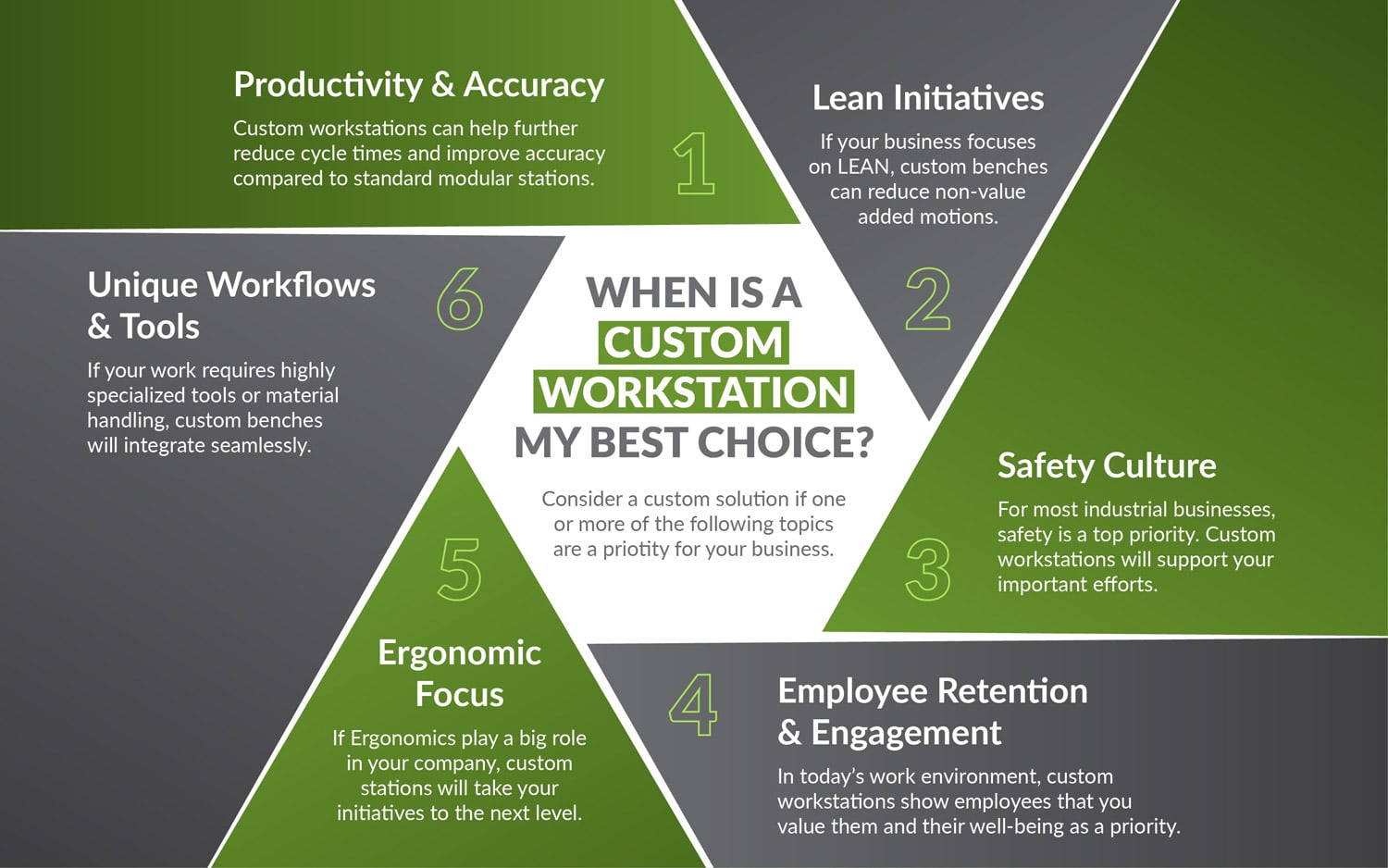 BUILDING BETTER WORKPLACES FOR 28+ YEARS
VIRTUALLY
MAINTENANCE-FREE
Build Your Perfect Workstation
with Easy-to-Use 3D Builder