Workbench tops and surfaces play an important role in labs. Chemical and impact resistance or cleanroom requirements are frequent requests for lab workstations.
Different tasks can require specific work surfaces. BOSTONtec offers the most popular laboratory options – laminate, stainless steel, phenolic resin and epoxy – as well as special requests. Contact us for additional choices.
Strength and durability
Chemical resistance options
Control in cleanroom environments
Ergonomic options with rolled edges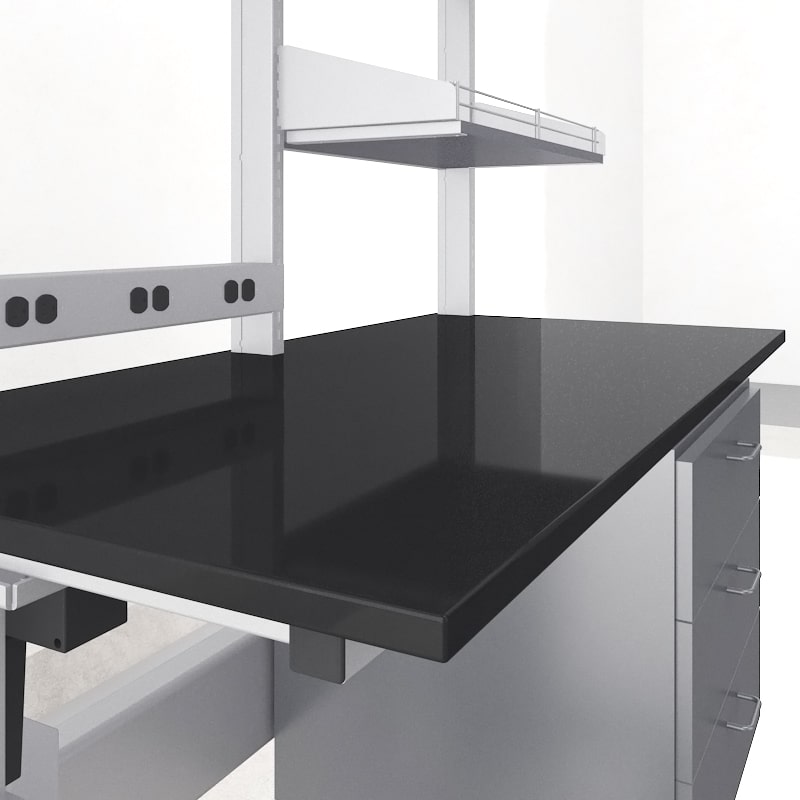 Work Surface Options for Labs
Premium Grade Laminate
This very durable surface is constructed with a top layer of 1/16 inch premium grade laminate over 11/8 inch thick high density core board. All four sides are finished with an impact-resistant 3mm PVC edging with a 2mm radius. Standard color is black; other colors are available.
Stainless Steel
Durable and chemical resistant, this work surface is made of 14 gauge, 304 grade stainless steel formed over a sealed laminated high density core board. The 1 1/2 inch thick surface has a non-reflecting, random brushed finish.
Phenolic Resin
Solid phenolic is a high-pressure, thermoset resin composite, chemical-resistant material. It is nonporous and nonconductive with high impact resistance and superior structure strength.
Epoxy
A monolithic thermosetting material composed of modified epoxy resin and a fine filler material. This material exhibits exceptional structural strength and excellent chemical resistance. Finished edges are the same material as the work surface. Thickness is 1″.
Cleanroom Options
We offer cleanroom work surfaces which are typically used in class 100, 1000, and 10000.
Premium grade laminate work surface with laminate underside is our most economical cleanroom option with the shortest lead time. It has sealed edges and laminate underside for cleanroom environments. All four sides are edged with a high impact-resistant 3mm thick PVC edging in a complementary color. Finished with a 2mm radius.
Post formed cleanroom work surface is an ergonomic option for operators resting their wrists or arms on front edge. The front profile has 0.375″ radius for better user comfort. The back and two sides are straight 3mm edged. It is available with phenolic underside and laminate underside.
See It Before You Buy It!
Custom Industrial Workbenches
When is it right for you?
Modular workstations are all-rounders and will adjust to several different workflows. So when should you consider custom solutions?
A custom workstation can be as simple as a small shelf or as elaborate as a multi-station configuration. As you're planning your ideal workstation, our modular system is a great place to start. Fine-tune your station to ensure higher productivity and employee retention.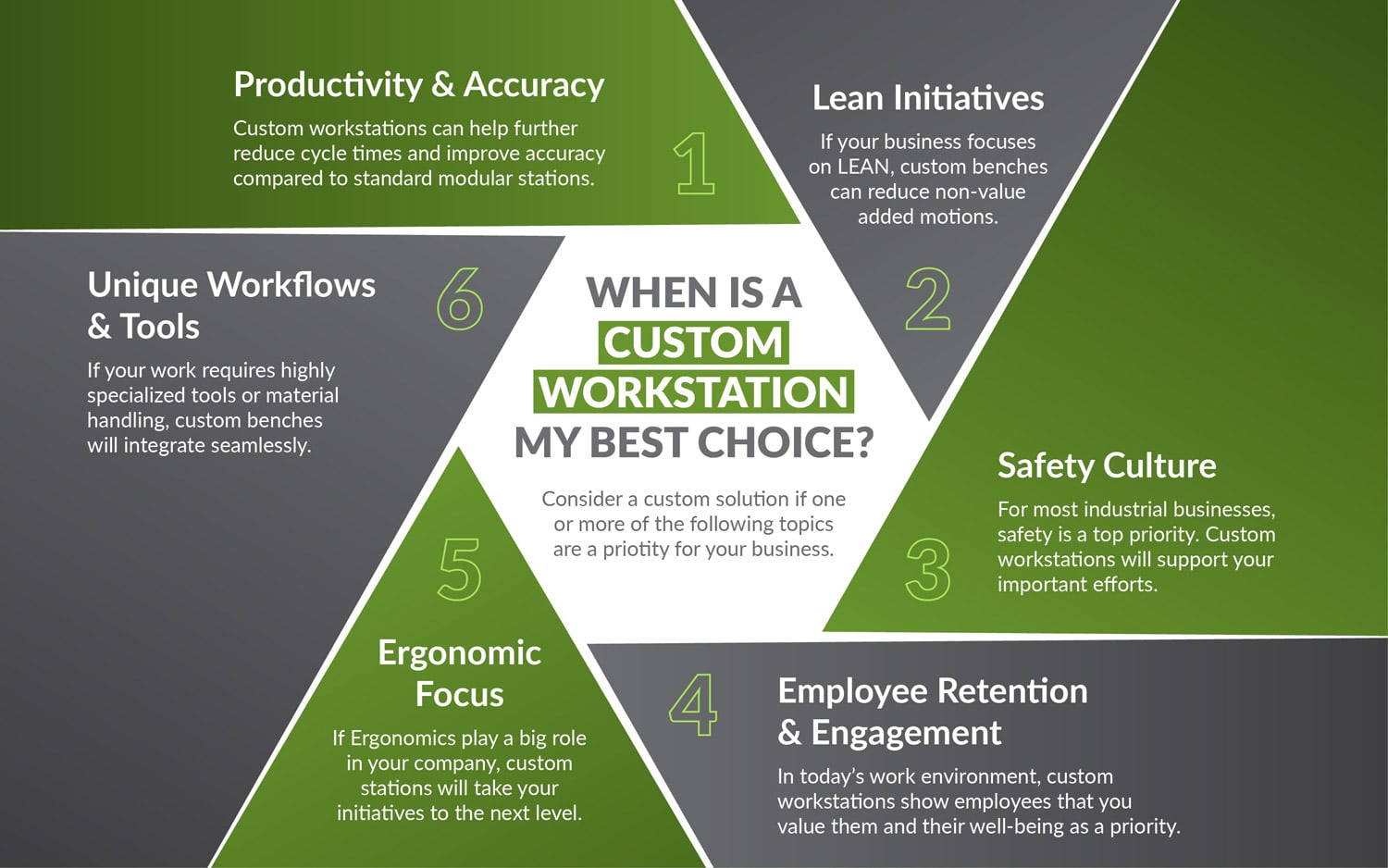 BUILDING BETTER WORKPLACES FOR 28+ YEARS
VIRTUALLY
MAINTENANCE-FREE
Build Your Perfect Workstation
with Easy-to-Use 3D Builder