Height Adjustable Lab Workstations
Ergonomic must-have for lab workers in either sitting or standing position
Adjustable height lab workbenches can accommodate 5th to 95th percentile or 90 percent of users. They allow lab personnel to work in neutral postures with ideal ergonomic reach access. Lab work can be done more safely and efficiently. Electric adjustable height lab bench can be raised or lowered at the touch of a button. Manually adjustable height lab tables are suited for applications where frequent height adjustments are not required. They support ADA compliance.
Reduce work-related musculoskeletal disorders injuries
Cut worker compensation costs
Adapt to the needs of specific user and work process with modular design and setup
Improve productivity, accuracy, and quality
Support employee health and well-being
Experience virtually maintenance-free operation
Electric Height Adjustable Frame (LPC Series)
Ideal for multiple users in a fast paced lab environment. Lab workstation height can be adjusted at the touch of a button. The LPC Series lab bench has a 1,200-pound capacity and adjustable height range of 28 to 44 inches. Select from a variety of sizes, work surfaces, options and accessories to build the lab workstation that best meets the needs of users and workflow.
Manual Height Adjustable Frame (LMC Series)
Suited for single-shift, single-user applications where frequent height changes are not required. With a 1,200-pound capacity, the LMC Series lab bench meets the demand of heavy-duty applications. Workstations have a height range of 28 to 44 inches. Select from a variety of sizes, work surfaces, options and accessories.
See It Before You Buy It!
Custom Industrial Workbenches
When is it right for you?
Modular workstations are all-rounders and will adjust to several different workflows. So when should you consider custom solutions?
A custom workstation can be as simple as a small shelf or as elaborate as a multi-station configuration. As you're planning your ideal workstation, our modular system is a great place to start. Fine-tune your station to ensure higher productivity and employee retention.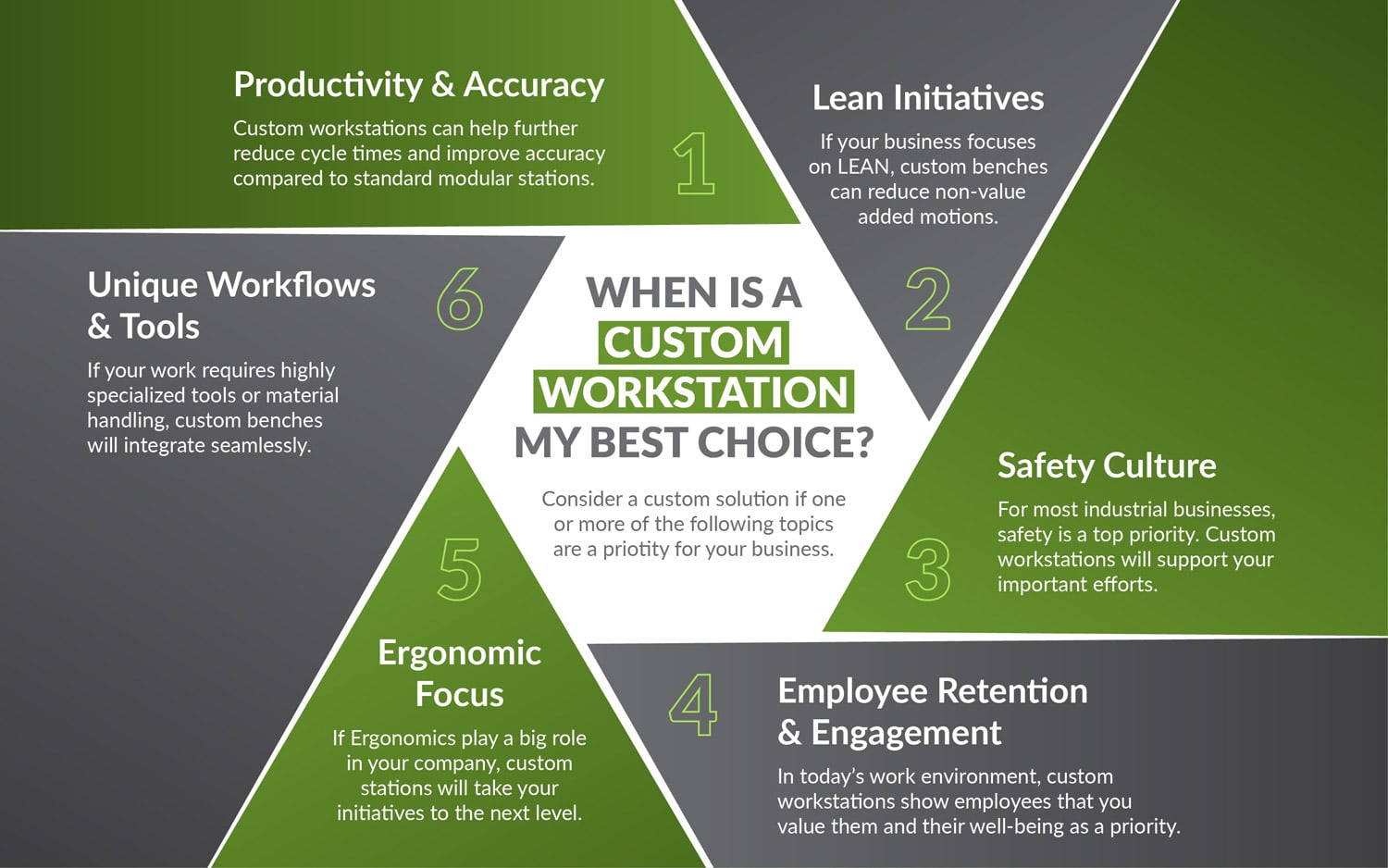 BUILDING BETTER WORKPLACES FOR 28+ YEARS
VIRTUALLY
MAINTENANCE-FREE
Build Your Perfect Workstation
with Easy-to-Use 3D Builder