Workbench Feet and Casters
Feet or casters complete your workbench base. Select from a range of options based on your specific application.
All caster options include special drop-down feet designed for adding casters to a unit without increasing starting workstation height.
Leveler feet and leveling casters allow users to level the workstation on uneven surfaces
Casters provide mobility and allow easy adjustment of work space layout when needed
Locking features of casters ensure stability and safety of workbenches
Workstation Caster Options
Leveler Feet
Feet allow user to level the workstation on uneven surfaces by adjusting glides appropriately. Optional lag plates can be used in place of glides to bolt workstation to floor for increased stability.
Universal Locking Casters
Gray, non-marking polyurethane casters. Compatible with PB/PBH/PBC and AF/AFH/AFC Series workstations, standing workstations, wire harness board frames, and trolleys. These casters feature a 4-inch wheel and are available with all 4 locking options.
Medium Duty ESD Casters
Polyolefin core with conductive rubber tread. Medium duty ESD casters are compatible with PB/PBC and AF/AFC Series workstations. These non-marking casters feature a 4-inch wheel and are available with all 4 locking options.
Universal Leveling Casters
Leveling casters allow user to balance the workstation on uneven surface then lock the unit securely in place. Casters feature a 21/2 inch black, nylon wheel and are compatible with industrial workstations.
See It Before You Buy It!
Custom Industrial Workbenches
When is it right for you?
Modular workstations are all-rounders and will adjust to several different workflows. So when should you consider custom solutions?
A custom workstation can be as simple as a small shelf or as elaborate as a multi-station configuration. As you're planning your ideal workstation, our modular system is a great place to start. Fine-tune your station to ensure higher productivity and employee retention.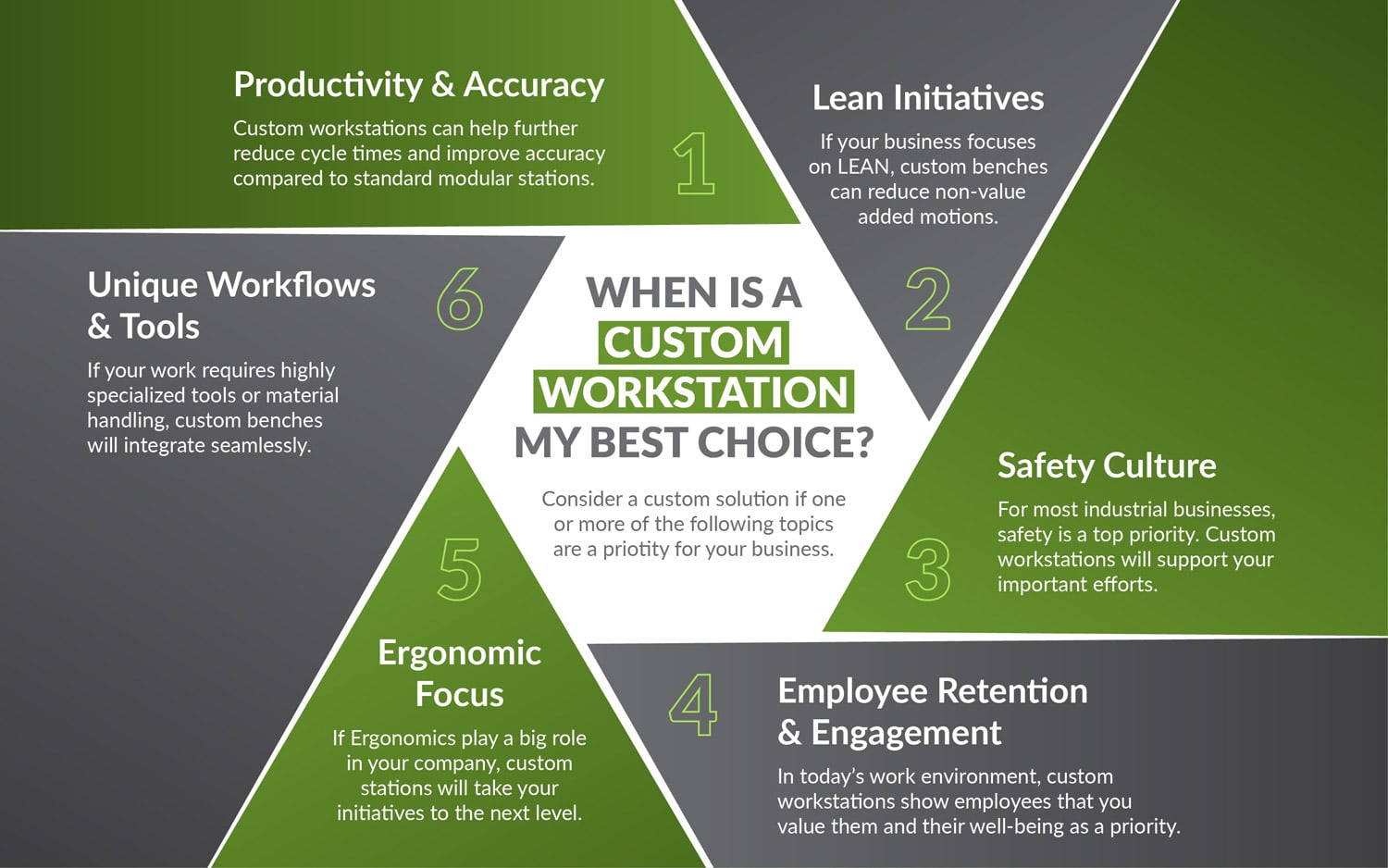 BUILDING BETTER WORKPLACES FOR 28+ YEARS
VIRTUALLY
MAINTENANCE-FREE
Build Your Perfect Workstation
with Easy-to-Use 3D Builder