Workbench Drawers and Storage
Storage and organization are critical for a productive work environment. The BOSTONtec drawer system helps store supplies right at the workbench.
Following the proper ergonomic reach zones means storing seldom-used items out of the way of the operator. BOSTONtec drawers and storage accessories provide secure locations for improved organization of items freeing up valuable work surfaces for tasks and frequently-used items.
Free up work surface from clutter
Support your 5S initiatives
Better utilization of the workstation
Workstation Storage Options
Steel Drawers
Drawers have keyed locks and mount under work surfaces of the workbench. Units are 12 inches wide by 14 or 18 inches deep and available in 3, 6 and 12 inch heights. Workstation drawers can be stacked in any combination up to 24 inches high. Lateral file drawer options are available.
Drawer Cubby
The cubby adds additional open storage space and can be used alone or under drawers. Mounts under work surface of the workbench and has a 40-pound capacity. Inside dimensions, without a drawer, are 12 inches wide by 14 or 18 inches deep and up to 14 inches of height clearance.
Overhead Storage Cabinet
Workstation overhead cabinet provides additional secure storage space for lesser-used items and mounts on all industrial uprights. The flip door has a keyed lock and slides into the unit. Cabinet is 30 inches wide by 16 inches high by 14 inches deep.
Wire Management Trough
The trough stores electrical wires to keep the work surface clear and provide a neat appearance. The unit is 30 inches wide by 10 inches high and mounts to the front or back of all industrial uprights. Trough can be mounted below the work surface and behind the workstation to further conceal wires (two units shown).
Steel Pull-Out Work Surface
The additional surface provides operator extra work space when needed then slides under the work surface and out of the way when not in use. The pull-out is 11 inches wide and extends 13 1/2 inches. The unit has a 40-pound capacity and mounts under work surfaces at least 30 inches deep.
See It Before You Buy It!
Custom Industrial Workbenches
When is it right for you?
Modular workstations are all-rounders and will adjust to several different workflows. So when should you consider custom solutions?
A custom workstation can be as simple as a small shelf or as elaborate as a multi-station configuration. As you're planning your ideal workstation, our modular system is a great place to start. Fine-tune your station to ensure higher productivity and employee retention.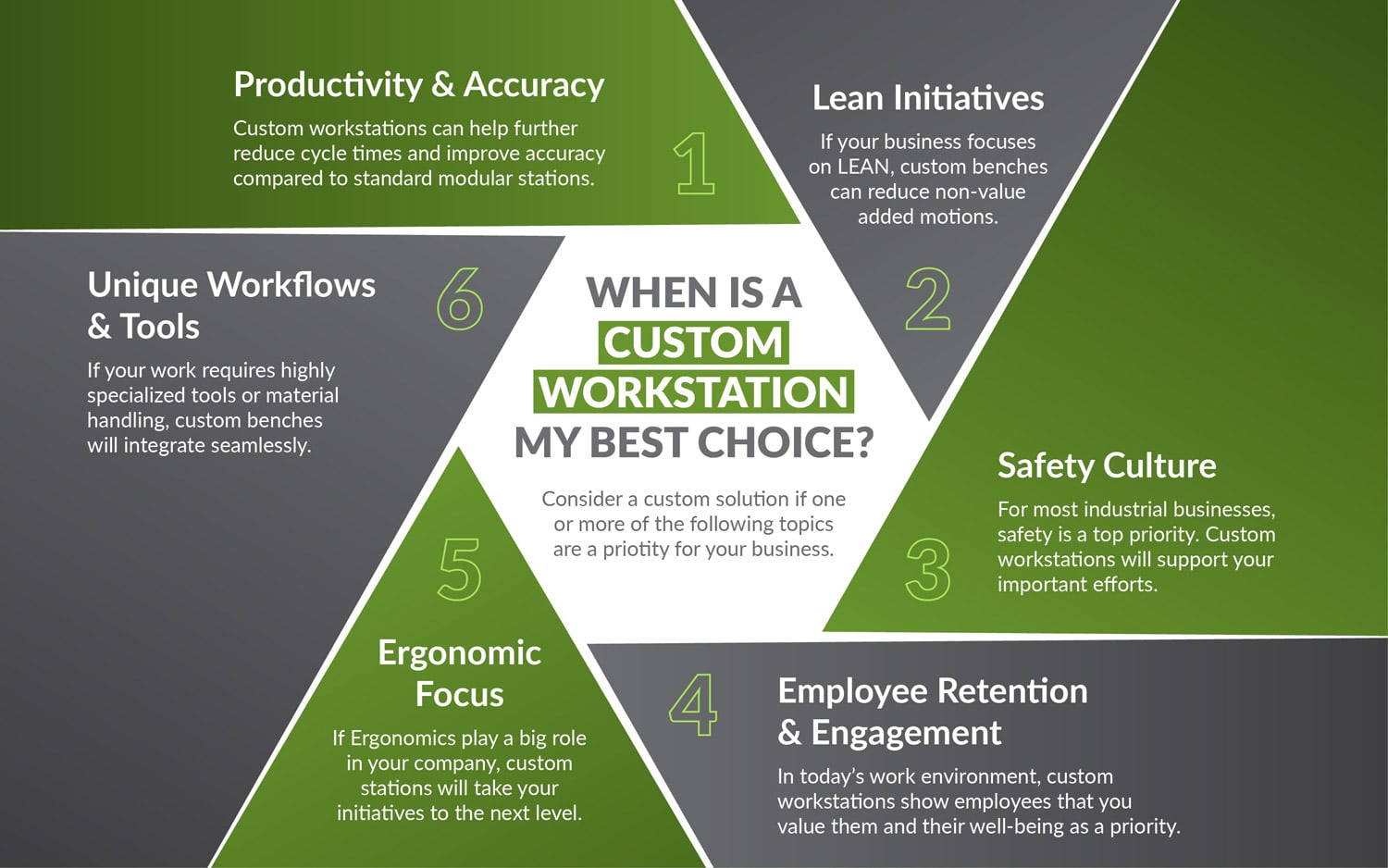 BUILDING BETTER WORKPLACES FOR 28+ YEARS
VIRTUALLY
MAINTENANCE-FREE
Build Your Perfect Workstation
with Easy-to-Use 3D Builder