Improved Workplaces Lead to Better Performance
No two business operations and no two employees are the same.
The need to design for fexibility and adjustability
Industrial business processes are often multi-shift, multi-operator environments. When designing workstations for these situations, we have to keep several important ergonomic rules in mind, and design for flexibility and adjustability.
FIVE IMPORTANT RULES FOR WORKSTATIONS
Optimize Position
Eliminate Extreme Movements
Minimize Forces and Repetition
Order and Color Coding
Optimize Lighting
In a multi-shift, multi-operator environment, designing for adjustability is the only way we can accommodate a diverse workforce. Electric height adjustable workstations allow your employees to effortlessly adjust their stations. Only a smooth and easy feature will be used consistently and ensure the benefits for your organization.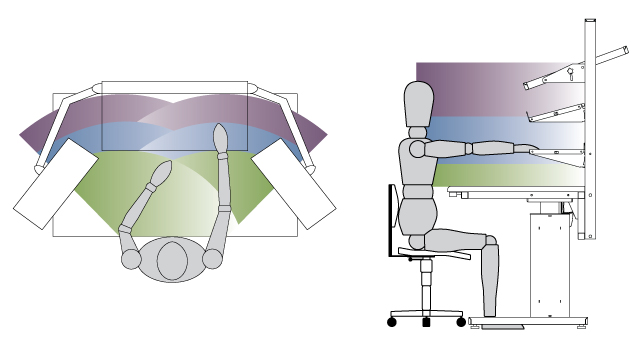 Examples of Ergonomically Designed Workstations
1
Pneumatic height
adjustable monitor arm
2
Label holder trough
3
Pull-out shelf for
laser printer
4
Pull-out shelf for
thermal printer
5
Spool holder for bubble wrap
6
Pneumatic height adjustable
keyboard tray with mouse pad
7
Height adjustability with the
touch of a button
8
Under work surface box
building shelf
9
Corrugate storage cart
❮
❯
Instructions: Mouse over numbers for additional information.
Eliminate Extreme Movement
The opposite of an optimized neutral posture is extreme movements or awkward postures. When you move away from the optimized position toward extremes in the range of motion, you create ergonomic risk. When we work with you on an ergonomic workstation design for your operation, we pay attention to your workflow and minimize these extreme motions. Take a look at the short video demonstrating the BOSTONtec solution for building large boxes while minimizing extreme motions, following an important ergonomic rule.
Workstation modularity is reshaping ergonomic efficiency, offering tailored adjustments to meet the unique demands of both tasks and users. This shift is pivotal for a workplace where productivity aligns with employee well-being. The move toward tailored workstations...
read more
Boost Your Productivity
with These Ergonomic Principles