Achieve Effortless Performance with Ergonomics
Fit the task to the worker – not the worker to the task.
While automation has improved quality and productivity, many of the tasks that remain are manual and repetitive and can be detrimental to the human body. Ergonomic workstation solutions allow users to focus strength and energy on the tasks at hand while avoiding harmful effects.
A focus on ergonomics can help:
Optimize lean processes
Control accuracy and quality
Ensure employee well-being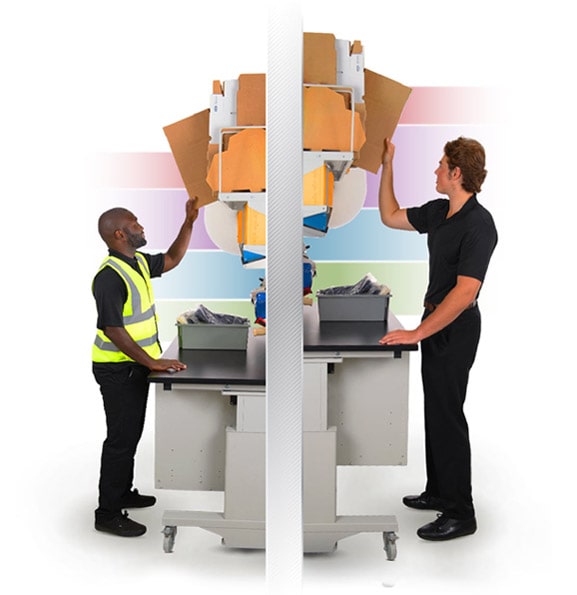 Investment In Industrial Ergonomics Pays Off
In today's competitive business environment Industrial Ergonomics is a critical component in all efforts that focus on raising productivity, improving quality, and increasing employee retention and engagement. Ergonomics touches multiple aspects that define your company's success, and implementing key principles can pay dividends quickly.
Shorter cycle times
Higher efficiency through reduced non-value added motions
Reduced workman's comp expenses
Fewer work-related absences
Increased worker retention and engagement
More comfortable workplace
Fewer work-related injuries
Higher motivation for success and quality work
More energy at the end of the workday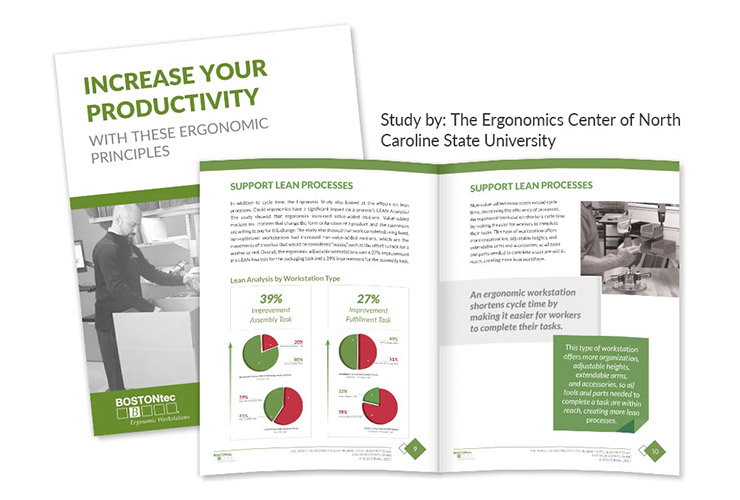 Ergonomic Study Whitepaper
INCREASE YOUR PRODUCTIVITY WITH THESE ERGONOMIC PRINCIPLES
A comprehensive study conducted by The Ergonomics Center of North Carolina State University looked at the difference in industrial workbenches for typical assembly and packaging tasks and found clear and quantifiable evidence that ergonomically designed workstations deliver clear advantages.
Topics covered in this whitepaper:
Reductions in cycle time of ergonomic workstations
Lean analysis comparison of ergonomic benches vs traditional
Main ergonomic principles used to improve workbench set-up
Workstation design ideas to improve your business
Create a Better Workplace
By avoiding unfavorable postures and movements, employees remain fit and motivated and thus complete their tasks better. The combination of economic efficiency and humanity makes ergonomics a fundamental success factor in business. Companies that implement ergonomic principles and invest in better work environments achieve higher performance faster and build a loyal and motivated workforce.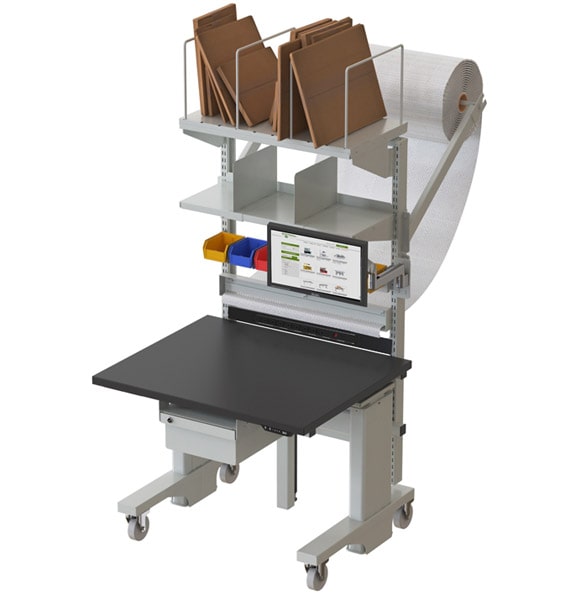 Improve Productivity, Profitability, and Employee Well-Being by Following Key Ergonomic Principles