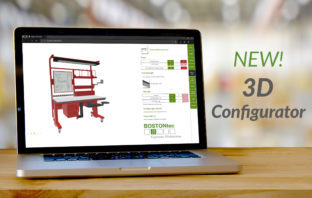 Significant timesaving and top-notch graphics make for an exceptional user experience.
MIDLAND, Mich., July 23, 2019 – BOSTONtec® recently announced the unveiling of a proprietary 3D Configurator program, designed to help users build their ideal modular workstation including a full selection of company catalog accessories. The configurator is freely available to all users.
"Planning workstations for specific applications can seem like a daunting process. There are many variables and options to consider" said Kelly Wehner, President of BOSTONtec. "Where do we place shelves, lights, or drawers on the workstation? What accessories are available? Can we fit all the accessories on the station in an efficient way? These are just some of the questions that prompted us to create the 3D Configurator for our users. Now customers can create their personal modular set-up and see all of the options available to them, in full 3D display, before those stations are even ordered."
BUILD-YOUR-OWN WITH EASE
With advanced visuals, multiple options, and easy accessory placement, BOSTONtec's new 3D Configurator stands out as a superior choice among other such available simulators. Beginning with a variety of base model types and sizes, users can choose from work surface options, uprights, feet or casters, and more. From there, accessories ranging from shelves, CPU holders, monitor arms, task lights, and others may be added and positioned as desired.
With 24-hour access, the BOSTONtec 3D Configurator helps online users browse and create on the go. Each workstation image populated is 3D and photorealistic in nature, and available in multiple colors and finishes. Users can also zoom-in and out or rotate their creations a full 360 degrees for even more visual detail. After creating and personalizing the 3D model to match their specific needs, the customer will receive a PDF and itemized component list and can submit a request to BOSTONtec for a quote. The online modeling includes 90 percent of the standard options available for cantilevered workstations offered by BOSTONtec. "The online configurations also act as a solid foundation for starting conversations about custom designs in applications that go beyond the standard offering" Rob Doucette, Applications Engineer of BOSTONtec said. "Our ability to efficiently create custom solutions is what sets us apart when working with our customers."
Ergonomic set-ups require that tasks and equipment be engineered around each worker, with a complete understanding of the tools, devices, and supplies that are needed to complete specific tasks. BOSTONtec® has long been an expert of ergonomic height-adjustable workstation designs. Designs that provide a wide variety of assembly, fulfillment, and medical industries with the tools they need to support an ever-growing, diverse workplace.
ABOUT BOSTONtec®
Established in 1993, BOSTONtec is a Michigan-based company that produces high quality, height-adjustable steel workstations; intended for the assembly, fulfillment, and healthcare, and technology markets. With more than 20 years of design and manufacturing experience, BOSTONtec is the leader in custom and ergonomic modular workstations. All BOSTONtec products are designed and fabricated in the United States, and sold worldwide.