Wire Harness Assembly
Adjust Your Work With Ease
1
Electric Tilt for Easy Adjustability
for a more ergonomic work environment
increasing productivity.
2
Space-saving Compact Footprint,
36" d x 72" w. Deck is 36"
d x 72" w, expands to 48" d x
72" w. Supports boards up to
48" d x 96" w
3
Programmable Switch provides
digital height read-out and preset
adjustability.
Wire Harness Board Workbench
Electric height adjustability and manual tilt mechanisms provide a more ergonomic work environment.
The BOSTONtec wire harness board frame results from a three-year cooperative development project with major wire harness fabricators. The workbench allows the operator to quickly set a wire harness board appropriately and then change position without removing work in process.
Improves operator comfort thanks to electric adjustability
Decreases repetitive motion injuries
Reduces non-value added motions
Increases wiring accuracy
Reduces cycle time
Ergonomic Wire Harness Assembly Workstations. Get Yours.
Custom Industrial Workbenches
When is it right for you?
Modular workstations are all-rounders and will adjust to several different workflows. So when should you consider custom solutions?
A custom workstation can be as simple as a small shelf or as elaborate as a multi-station configuration. As you're planning your ideal workstation, our modular system is a great place to start. Fine-tune your station to ensure higher productivity and employee retention.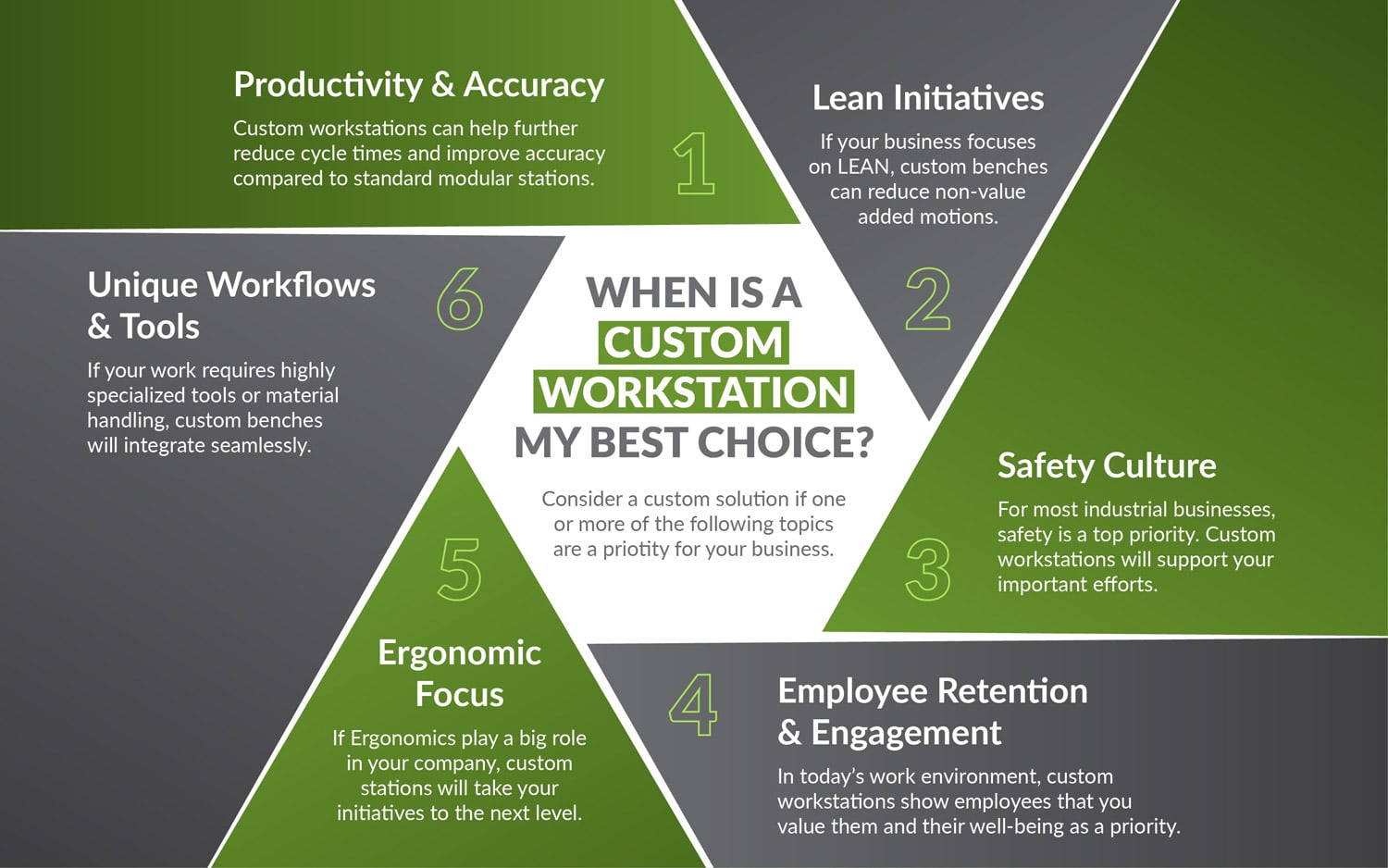 BUILDING BETTER WORKPLACES FOR 28+ YEARS
VIRTUALLY
MAINTENANCE-FREE
Ergonomic evaluation assesses how work affects various parts of the human body. These effects can be both positive and negative and are incredibly important in every type of work setting imaginable. In an industrial setting, proper ergonomics for the bodies of workers...
read more