Medical Device Assembly & Biotech
Speed and Accuracy for Your Operation
1
LED Overhead Light for additional
lighting directly over work surface.
2
Pneumatic Height Adjustable
Monitor Arm optimum flexibility
to move monitor into position.
3
Pneumatic Height Adjustable
Keyboard Tray with Mouse Platform
for optimum flexibility to move
keyboard into ergonomic position.
4
Electric Height-adjustability
5
Heavy-duty Casters with
unique drop down foot design
which adds casters without
increasing starting height of the
workstation.
6
Single Steel Drawer
for organization and storage.
7
8-Outlet Horizontal Power Bar
keeps power within reach for
easy end of day shutdown
of tools and lights.
8
Bin Rail keeps small items
sorted and within reach.
9
LED Circular Magnification
Lamp additional light and
magnification for detailed tasks;
reduce eye strain.
10
Custom Wired Shelf with Transparent
Lip for minimized dust accumulation.
Workstations for Biotech and Medical Device Assembly
Medical equipment manufacturing and biotech processes can be performed faster and safer utilizing a well-designed workstation.
Minimize repetitive and risky motions with adaptable workstations and benches for a lean workflow. A focus on ergonomics reduces work-related injuries and improves employee performance and morale.
Above is an example of a mobile medical workbench specifically engineered for the diverse medical and assembly workforce. Its versatile modular design can accommodate a variety of tasks and ever-changing workflows – future-proofing your investment.
Increase production efficiency with a set-up that fits your process
Support your lean initiatives by reducing non-value added motions
Save cost, by reducing worker injuries
Shorten time to market with an adaptable modular design
Increase employee retention with a sound ergonomic work environment
Gain a competitive edge over your competitions with a holistic workplace solution
Experience virtually maintenance-free operation
4 Simple Steps to Build Your Medical Assembly Workstation
Select Medical Workstation Base Frame
Your medical workstation or workbench is a crucial investment to secure your business success, so it will pay off to review a few meaningful steps before making a decision.
When choosing a base frame, start by considering the size of your work surface. Decide how much surface is necessary to perform the required medical assembly and biotech tasks – and how much space is available in the work area. Apply the ergonomic reach zones to each item or function. The space should be as large as necessary to perform the tasks but as compact as possible to limit reaching and stretching. When it comes to work surfaces – bigger isn't always better.
Consider if you will have multiple workers using the same workstation – or if, for example, a sit-stand transition is beneficial for your medical assembly process. A good rule-of-thumb to determine whether manual or electric height adjustability is appropriate is if the height needs to be adjusted more than four times per year, electric height-adjustability is highly recommended.
Keep future developments in mind when you make decisions on your base frame. Accessories can easily be adjusted and changed, but the base frame of your medical assembly workstation is a long-term decision.
Select Feet or Caster Type
You have several choices when it comes to the feet or casters for a medical equipment or device manufacturing workstation:
How often will you move the workstation? Leveler feet are your choice if your workstations will be primarily stationary in your medical manufacturing facility.
If you plan on repositioning your benches, we recommend casters. For safety, all BOSTONtec workstations on casters are equipped with at least two locking casters; all four locking casters are available as an option for additional security.
Leveling casters are also available and often used in medical environments. These casters feature a pad when engaged, holding the workstation securely in place.
Are you using heavy tools or components on the station? Think about the distribution of the load the station will support and any force that could affect the unit's stability. Lag plates are an option that attach to standard leveler feet allowing the workstation to be bolted to the floor.
Select Work Surface Type
Several work surface options are an excellent fit for medical applications:
Consider whether the user will perform most functions from a sitting or standing position. A rolled front edge is more ergonomic for operators who rest their forearms on the front edge of the work surface when performing a task.
What substances will you use on the workstation top? Laminate work surfaces are durable and economical for many medical applications. If chemicals are used in the medical device assembly or biotech process, stainless steel, phenolic resin, or epoxy surfaces are good options. BOSTONtec also offers sealed work surfaces for cleanroom environments; Class 100, 1000, and 10000.
Are you assembling sensitive electronics? If your medical equipment includes sensitive electronics, ESD work surfaces and grounding accessories are the right choices.
Select Accessories
Once the essential components of your medical assembly workstation are selected, accessories are added to place items based on frequency and sequence of use, safety, and other factors to reduce operator stress and increase productivity. (See Plan Your Workstation for more information)
Review the ergonomic reach zones and identify what tools and components correspond with each zone. Utilizing uprights with shelves allows the operator to place items appropriately while keeping the work surface clear for tasks. Bins rails that support assorted storage bins can be used to hold small parts organized and within reach.
Evaluate the lighting where you will place the workstation. LED overhead light provides lighting directly over the work surface. For detailed tasks, additional lighting may be necessary to reduce eye strain and avoid accidents. Medical devices often require meticulous work: particular task lights or magnifiers will ensure the right environment for accuracy in your assembly process.
Consider whether the operator will be using power tools. Placing a power strip close to the work surface makes it easy to plug in different powered devices avoiding bending or stretching to reach outlets.
Tool Storage can be an important factor for medical equipment and biotech operations. Drawers, shelves, and overhead storage compartments are just a few examples that can help you position and store tools and supplies.
Evaluate the computer equipment that is used at the workstation. Large CPU units should be stored out of the way under the work surface. Monitor arms and keyboard trays allow the operator to place equipment at the appropriate height for proper posture and reduced eye strain.
See It Before You Buy It!
Custom Industrial Workbenches
When is it right for you?
Modular workstations are all-rounders and will adjust to several different workflows. So when should you consider custom solutions?
A custom workstation can be as simple as a small shelf or as elaborate as a multi-station configuration. As you're planning your ideal workstation, our modular system is a great place to start. Fine-tune your station to ensure higher productivity and employee retention.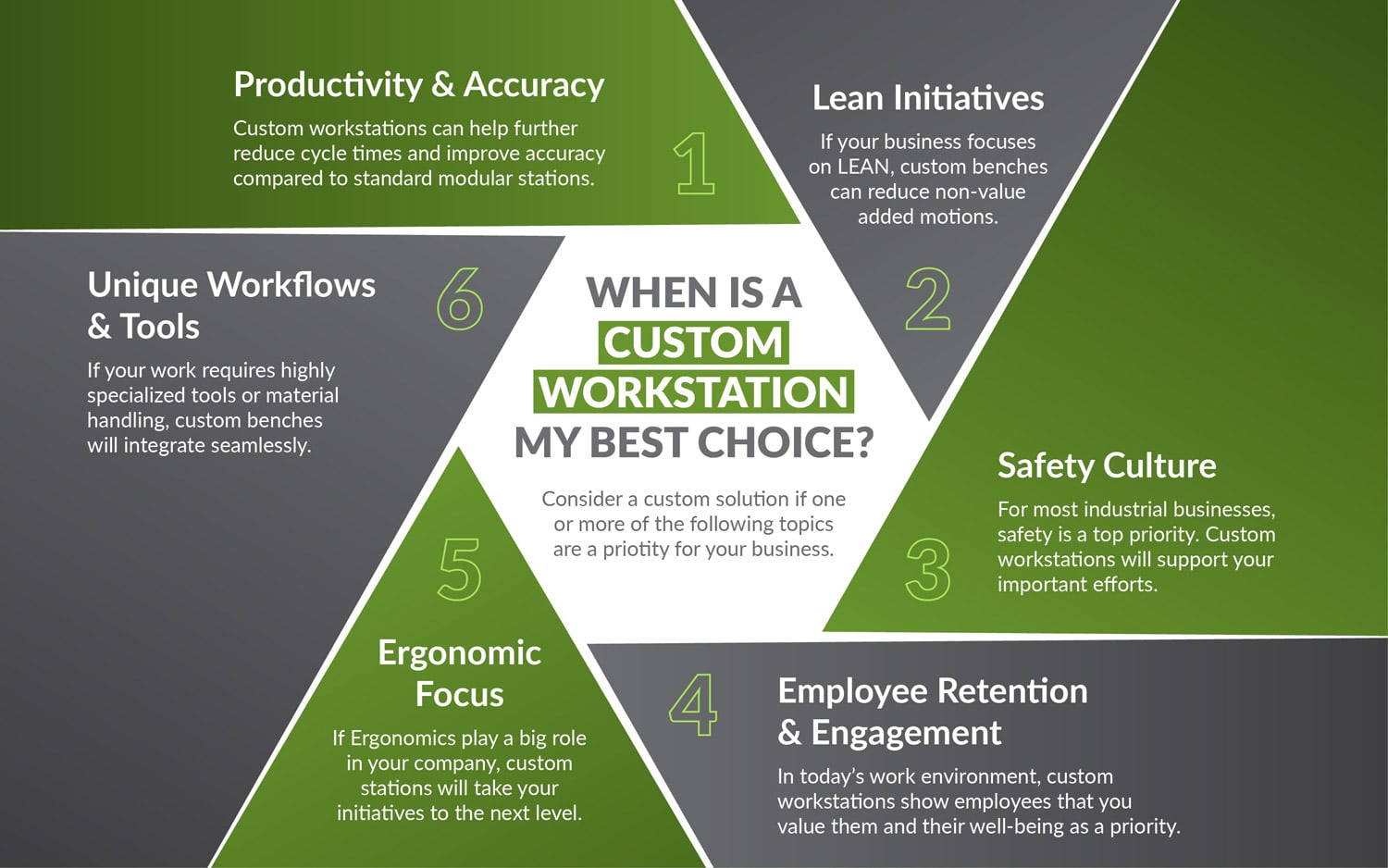 BUILDING BETTER WORKPLACES FOR 28+ YEARS
VIRTUALLY
MAINTENANCE-FREE
Ergonomic evaluation assesses how work affects various parts of the human body. These effects can be both positive and negative and are incredibly important in every type of work setting imaginable. In an industrial setting, proper ergonomics for the bodies of workers...
read more