SD Protection
Prevent ESD Damages and Ensure Quality
1
LED Overhead Light for
additional lighting directly over
work surface.
2
Tool Trolley and Balancer for
ergonomic support.
3
Pneumatic Adjustable Double
Monitor Arm provides optimum
flexibility to move both monitors
into position.
4
CPU Holder allows for easy
access to ports, drives, and cables.
5
Medium-duty ESD Casters with
unique drop down foot design
which adds casters without
increasing starting height of
the workstation.
6
Custom Shallow Drawers with
compartments for tool storage.
7
ESD Work Surface highly
durable with impact resistant
edges.
8
Articulating Bin Rail Holder
keeps small items sorted
and within the proper reach.
9
Adjustable Shelf with Tilt
allows easy adjustment for
visibility and accessibility of
tools and devices.
10
Swivet Connector to anti-static
wrist strap.
11
Under Work Surface Keyboard
Tray with Sliding Mouse Platform
allows operator to access
keyboard and mouse as needed
then store under work surface
when not in use.
ESD Workbenches & Stations
Electronics manufacturing, assembly, handling, and testing in industrial and technical environments can be performed faster and safer utilizing a properly designed ESD workbench.
Electrostatic discharge (ESD) occurs when differently charged objects are brought in close proximity or contact. It could cause damage to sensitive electronics components and lead to immediate or delayed product failures.
BOSTONtec's ESD workbench is an integral part of an ESD protected area (EPA) to prevent ESD damages and costly consequences. It combines ESD safety with ergonomics to ensure product quality, employee well-being, and productivity improvement.
Prevent product defects and device failures due to damages of sensitive electronics components
Safeguard company reputation and avoid substantial legal cost related to product quality issues
Reduce reaching, bending, and twisting associated with electronics assembly and testing tasks
Improve efficiency by reducing non-value added motions
Enhance employee satisfaction and morale with ergonomically optimized work space
Adapt to changes in workforces and work processes easily with modular design and setup
4 Simple Steps to Build Your ESD Workstation
Select ESD Workbench Base Frame
What you need to consider when choosing a workstation frame for an ESD application:
The size of the frame is dependent on the size of the work surface. Decide how much surface is necessary to perform the ESD tasks – and how much space is available in the work area. Apply the ergonomic reach zones to each item or function. The space should be large enough to perform the ESD tasks but compact to limit reaching and stretching.
What is the maximum capacity required, including shelving, equipment, and components? Is the weight distributed evenly? Excessive weight in one area of a workstation could require a higher capacity frame.
Will there be multiple users of the workstation? Will the operator transition between sitting and standing? Here is a good rule-of-thumb to determine whether to choose manual or electric height adjustability:

Electric adjustability is a better choice if the height needs to be adjusted more than four times per year.
Select Feet or Caster Type
Some important considerations for choosing the feet or casters for  ESD workbenches:
How often will the workstation be moved within the work area? Leveler feet are used for primarily stationary units. Casters are recommended for stations that will be occasionally or frequently moved or repositioned. For safety, BOSTONtec offers workstations with at least two locking casters; all four locking casters are available for additional security.
Special static dissipative ESD casters are needed for ESD protection. They have a polyolefin core with conductive rubber tread. They allow the static electricity to flow through and release into flooring when the station is in movement.
Evaluate the distribution of the load the station will support and any force that could affect unit's stability. Lag plates are an option that attach to standard leveler feet allowing the workstation to be bolted to the floor.
Select Work Surface Type
Here are some essential considerations for choosing the correct work surface for an ESD application:
How much surface is necessary to perform the ESD tasks? How much space is available in the work area? Assign each item or function to appropriate ergonomic reach zones for proper ergonomics and optimized performance. The space should be large enough to perform the ESD tasks but compact to limit reaching and stretching.
ESD work surface is a must-have to protect the sensitive electronics components and devices from damage by sudden electric discharge. It utilizes a special electrostatic dissipative laminate that diffuses static electricity and reduces electric current transfer on the work surface. Flush ESD grounding bolt is installed in the work surface to ground the station. Wrist strap is connected to the swivet connector to keep the wearer at a low electrical potential at all times.
Lastly, think about how the user will perform most functions. Is it from a sitting or standing position? A rolled front edge is more ergonomic for operators who rest their forearms on the front edge of the work surface when performing a task.
Select Accessories for ESD Workbenches:
Once the basic components of the ESD workbench are selected, accessories are added to place items based on frequency and sequence of use, safety and other factors to reduce operator stress and increase productivity. (See Plan Your Workstation for more information)
Review the ergonomic reach zones and think about what tools and components correspond with each zone. Utilizing uprights with shelves and bin rails allows the operator to place items where appropriate while keeping the work surface clear for tasks.
Is there enough lighting where the workstation will be placed? For detailed electronics assembly and testing tasks, additional lighting may be necessary to reduce eye strain and avoid accidents. For meticulous work, special task lights or magnifiers are also helpful.
The operator will be using powered tools and devices. Placing a power strip close to the work surface makes access to tools and equipment simple and easy. It avoids bending or stretching to reach outlets.
See It Before You Buy It!
Custom Industrial Workbenches
When is it right for you?
Modular workstations are all-rounders and will adjust to several different workflows. So when should you consider custom solutions?
A custom workstation can be as simple as a small shelf or as elaborate as a multi-station configuration. As you're planning your ideal workstation, our modular system is a great place to start. Fine-tune your station to ensure higher productivity and employee retention.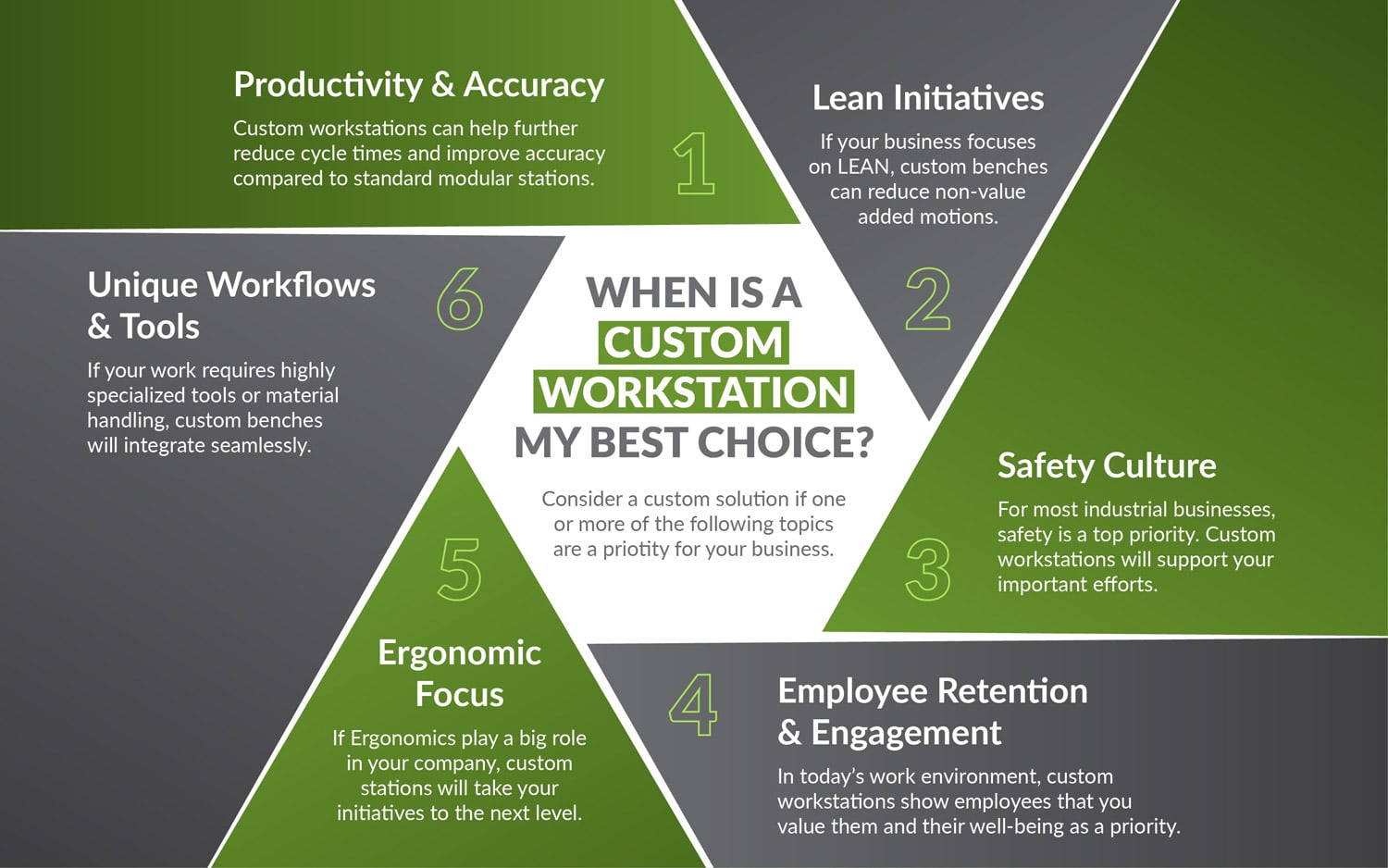 BUILDING BETTER WORKPLACES FOR 28+ YEARS
VIRTUALLY
MAINTENANCE-FREE
Cable and wire management is sometimes overlooked in facilities. However, its purpose is well beyond just making everything look nice and orderly. Why Wire Management? Tangled wires and cords could be a real headache when equipment maintenance and/or troubleshooting...
read more