ASSEMBLY
Increase Your Manufacturing Productivity
1
LED Overhead Light for
additional lighting directly
over work surface.
2
Double Bay Uprights work in
concert with proper accessories to
provide users with optimal ergonomic
reach access.
3
15" Steel Shelf allows for
placement of items within the
reach zones.
4
Electric Height-adjustability raises
or lowers height at the push of a button.
5
Heavy-duty Casters with
unique drop down foot design which
adds casters without increasing
starting height of the workstation.
6
Stackable 6" Drawers
for organization and storage.
7
Maple Work Surface ideal
for areas that must stand
repeated wear and tear.
8
Bin Rail keeps small items
sorted and within reach.
9
Steel Peg Board helps keep
tools, keys and other supplies
within reach.
Ergonomic Assembly Workstations and Workbenches
Mechanical or electronic assembly, inspection, testing and quality control activities can be performed faster and safer utilizing a properly designed assembly workbench.
Reaching, bending, twisting, lifting, pushing, and pulling associated with assembly tasks can be reduced by creating a workstation that fits the needs of the specific operator. The following are some things to consider when selecting the right components for your assembly workstation. For more tips, go to Plan Your Workstation.
Reduce non-value added motions and improve efficiency
Prevent work-related musculoskeletal disorders (WMSD) by minimizing exposure to ergonomic risks
Adjust to specific work processes with modular workstation design
Meet individual task and operator needs with adjustable workbench and accessories
Attract and retain employees with enhanced comfort and safety at the workplace
4 Simple Steps to Build Your Assembly Workstation
Select Workstation Base Frame
Some important considerations for choosing the correct workstation frame for an assembly application:
The size of the frame is dependent on the size of the work surface. Ask the question of how much surface is necessary to perform the assembly tasks? Then how much space is available in the work area? Assign each item to the appropriate ergonomic reach zone based on how it is going to be used. The space should be large enough to perform the assembly tasks but compact to limit reaching and stretching.
Determine the maximum capacity required, including shelving, equipment, components – and whether the weight is distributed evenly. Excessive weight in one area of a workbench could require a higher capacity frame.
Ask the following two questions when you are trying to decide between manual and electric adjustable height workbenches. Will there be multiple users of the workbench? Will the operator transition between sitting and standing positions?

Here is a good rule-of-thumb: electric adjustability is recommended if the height needs to be adjusted more than four times per year.
Select Feet or Caster Type
Some important considerations for choosing the feet or casters for assembly workstations:
Determine how often the workstation will be moved within the work area. Leveler feet are used for mostly stationary units. Casters are recommended for stations that will be occasionally or frequently moved or repositioned. For safety BOSTONtec offers workbenches with at least two locking casters; all four locking casters are available for additional security.
Evaluate the distribution of the load the station will support and any force that could affect the stability of the unit. Lag plates could be attached to standard leveler feet allowing the workbench to be bolted to the floor.
Select Work Surface Type
Some important considerations for choosing the appropriate work surface for assembly workstations:
Decide how much surface is necessary to perform the assembly tasks – and how much space is available in the work area. Apply the ergonomic reach zones to each item or function. The space should be large enough to perform the assembly tasks but compact to limit reaching and stretching.
Consider whether the user will perform most functions from a sitting or standing position. A rolled front edge is more ergonomic for operators who rest their forearms on the front edge of the work surface when performing a task.
Know the substances that will come in contact with the work surface. Laminate work surfaces are durable and economical for most assembly applications. Some operators prefer to assemble on a hardwood surface as it is durable and can be sanded down periodically to remove shallow scratches. Wood surfaces are generally not recommended for humid areas. If chemicals will be used in the assembly process, stainless steel is a good option.
Select Accessories
Once the basic components of the assembly workbench are selected, accessories are added to place items based on frequency and sequence of use, safety, and other factors to reduce operator stress and increase productivity. (See Plan Your Workstation for more information)
Review the ergonomic reach zones and identify what tools and components correspond with each zone. Utilizing uprights with shelves and bin rails allows the operator to place items where appropriate while keeping the work surface clear for tasks.
Evaluate if there is enough lighting where the workstation will be placed. For detailed assembly tasks, additional lighting may be necessary to reduce eye strain and avoid accidents. For meticulous work, special task lights or magnifiers are also helpful.
Consider whether the operator will be using power tools. Placing a power strip close to the work surface makes access to tools and computer equipment simple and easy. This avoids bending or stretching to reach outlets.
See It Before You Buy It!
Custom Industrial Workbenches
When is it right for you?
Modular workstations are all-rounders and will adjust to several different workflows. So when should you consider custom solutions?
A custom workstation can be as simple as a small shelf or as elaborate as a multi-station configuration. As you're planning your ideal workstation, our modular system is a great place to start. Fine-tune your station to ensure higher productivity and employee retention.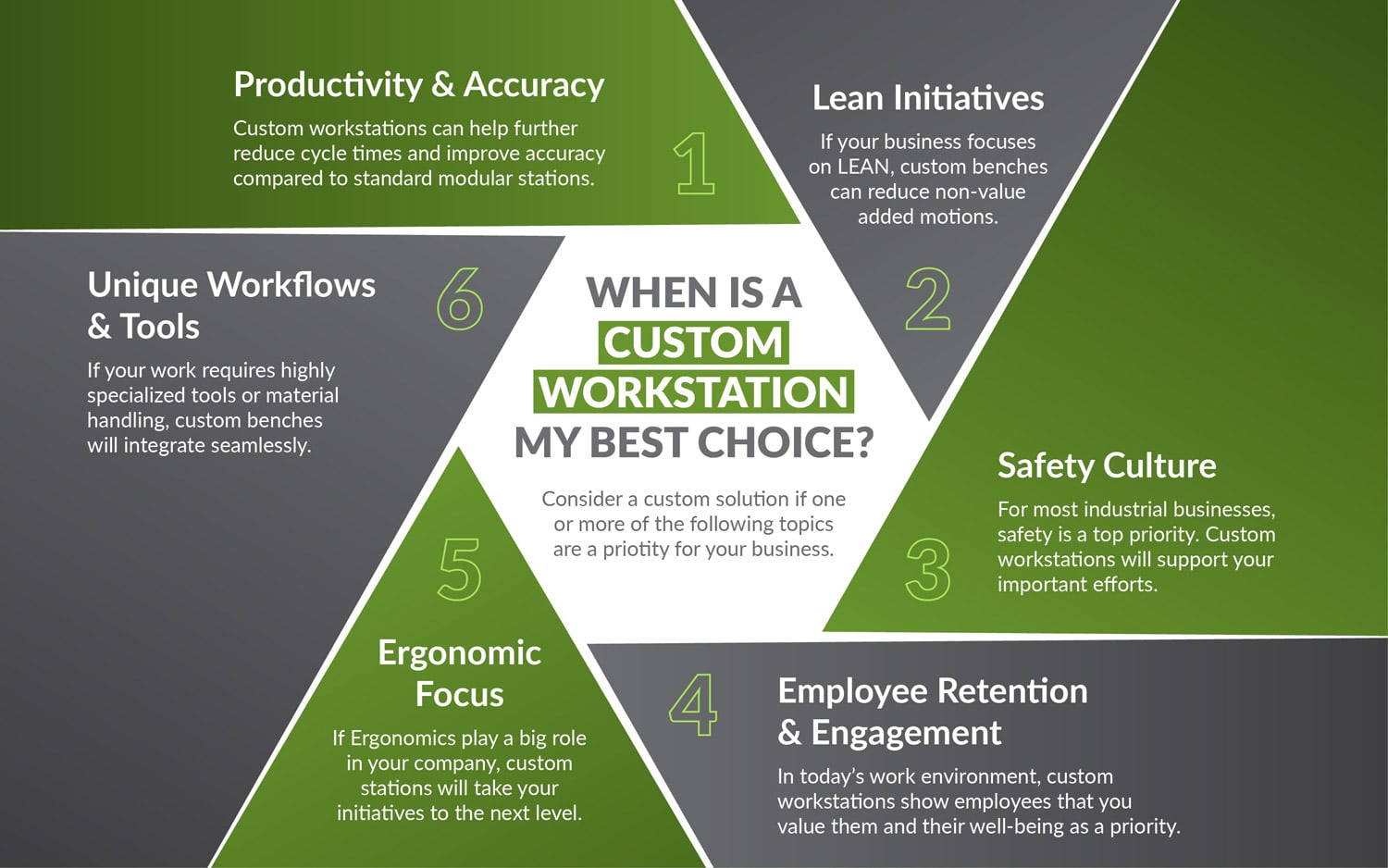 BUILDING BETTER WORKPLACES FOR 28+ YEARS
VIRTUALLY
MAINTENANCE-FREE
Cable and wire management is sometimes overlooked in facilities. However, its purpose is well beyond just making everything look nice and orderly. Why Wire Management? Tangled wires and cords could be a real headache when equipment maintenance and/or troubleshooting...
read more