Improve Productivity With
Ergonomic Workstations
Transform Your Workplace with BOSTONtec's Industrial Solutions:
Elevate Competitiveness, Productivity, and Employee Commitment.
Elevate Your Work:
Ergonomics & Industrial Strength
Discover unparalleled efficiency and productivity with BOSTONtec's ergonomically designed workbenches and industrial workstations. Our modular products seamlessly adapt to your work processes, offering flexibility as your business requirements evolve.
BOSTONtec's ergonomic workbenches are designed to excel in challenging, heavy-duty environments. Virtually maintenance-free, they provide significant benefits that can propel your business to new heights:
Optimize Lean Processes
Improve Quality & Accuracy
Ensure Employee Well-being
Our industrial workstations, from ready-to-ship models to tailor-made custom solutions, bring together robustness and adaptability. BOSTONtec is your trusted partner for high-performance workstation solutions.
BOSTONtec helps world-class brands grow and supports the who's who of the international industry with ergonomic solutions. No matter your application, chances are we've encountered similar situations and have solutions that can make your business more competitive.
Attention to ergonomics will improve the efficiency of your operation while supporting employee well-being.
Ergonomic workbenches support businesses in industries from manufacturing & packaging, to medical & labs.
Industrial Workbenches Delivered Your Way
From ready-to-ship models to tailor-made custom solutions, BOSTONtec is your partner in workstation solutions.
QUICKSHIP with 5 DAY SHIPPING
Need it fast? Our most popular industrial workstations and a variety of accessories in a QUICKSHIP program are ready to ship in 5 working days!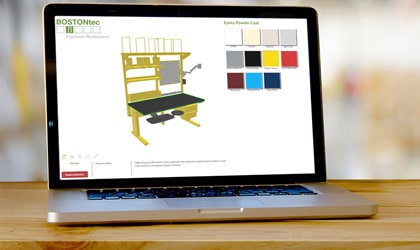 Design Your Own
3D Workstation Builder helps you realize your workstation vision with just a few simple clicks. You'll see your solution come alive in a 360-view.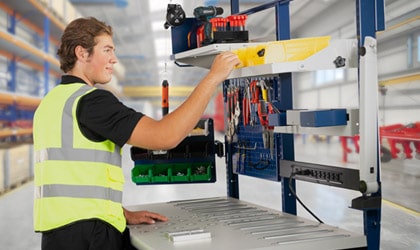 Custom Start to Finish
BOSTONtec is the industry leader in custom workbench solutions. Our in-house capabilities take your ideas from concept to final product.
True Professionals in Every Sense
"Bostontec has been a great company to work with for over the past 5 years and provides top-quality service in sales interactions, order entry, and manufacturing. They are all true professionals in every sense of the word by providing an exceptional customer experience. I will continue to support this company and proudly represent their fine product line that I can put my trust in when offering to my customers."
Design Your Perfect Workstation with
Our Easy-To-Use 3D Workstation Builder